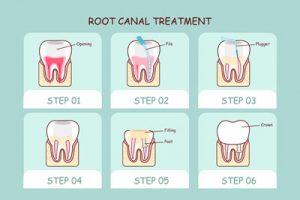 As a general dentist in Mission Viejo, we treat patients that are experiencing pain or discomfort and need to get help right away. We do not want our patients to suffer due to a restricted appointment schedule. As such, we make it easy to get the dental care you need, when you need it.
Keeping an eye on your oral health
One of the reasons that patients need sudden help is that they get a severe toothache. This can often be due to a cavity that has been left untreated and grows to the point that it becomes painful. Another reason we see patients with toothaches is that they need a root canal because an infection has spread into their dental pulp (soft center of the tooth), and the swollen pulp is creating discomfort. We can address both issues quickly so that our patients can feel comfortable and get back to life.
As a general dentist, we also treat patients that are experiencing pain after a root canal. Many people think that once the procedure is complete, they will never feel pain in that area again. When we perform a root canal, we remove the infected area. This leaves a hole in the tooth where that material once was.
We use a filling to close up the hole and will often place a dental crown around the tooth to prevent any further damage or injuries. The challenge is that a filling and crown will eventually start to break down. They are not meant to last forever, and as they break down, bacteria can enter the space. This can lead to a repeat infection that needs to be corrected.
Loose Dental Restoration
Another reason, someone might experience discomfort after a root canal, is if the dental crown was not secured in place properly. A loose crown can be uncomfortable and lead to infections as it traps bacteria, food, and plaque between the natural tooth and crown. There will be early signs of a loose crown before the patient starts to feel any pain.
If the patient feels like the crown does not fit properly, then the patient needs to schedule a dentist appointment right away. We can replace the old or damaged crown quickly to protect the tooth and help the patient feel comfortable again.
Reasons to visit a general dentist
As a general dentist, we are available to quickly treat any oral health issues that you have without a long wait time for an appointment. Some of the reasons patients need sudden care are toothaches, cracked teeth, chipped teeth or a tooth knocked out. This can happen fairly easily while playing sports, running around with the kids, driving a car, and even walking down the sidewalk.
Any time you trip, fall, get hit or expose your teeth to a stray ball, you can end up with a dental emergency. Fortunately, we are here to help when you need us. If you are in pain, give us a call.
---
Related Posts
July 8, 2019
The main focus of a general dentist in Mission Viejo is to help their patients keep their teeth, gums and mouth in the best and healthiest condition possible. Having the focus of helping their patients …
---